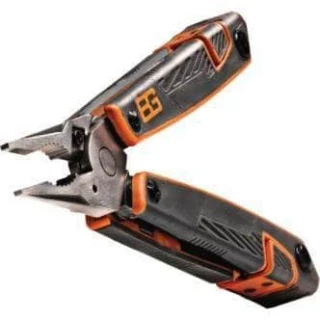 Bear Grylls Survival Tool Pack with Multi-Tool, Fire Starter & Flashlight
About Bear Grylls Survival Tool Pack with Multi-Tool, Fire Starter & Flashlight
Bear Grylls has spent much of his life on the edge of survival, and his signature survival tool pack is a testament to his knowledge and experience in the wild. This pack includes a multi-tool, fire starter, and flashlight, all designed to help you survive in any situation.
The multi-tool is equipped with 12 stainless steel tools, including pliers, a wire cutter, a saw, and a can opener. The textured handle ensures a secure grip, even in wet conditions, and the locking mechanism keeps the tools secure when in use. With this tool, you'll be able to tackle a range of tasks, from building shelter to preparing food and fixing gear.
The fire starter is a crucial tool for any survival situation, and this one is designed to work in any weather conditions. With a ferrocerium rod and metal striker, you can easily create sparks that will ignite your kindling. The included whistle can also be used to signal for help in an emergency. And with the bright LED flashlight, you'll be able to see in the dark and navigate through unfamiliar terrain. Whether you're an experienced outdoorsman or a novice, this tool pack is a must-have for any adventure.
Bear Grylls Survival Tool Pack with Multi-Tool, Fire Starter & Flashlight Reviews
Bear Grylls Survival Tool Pack with Multi-Tool, Fire Starter & Flashlight Questions and Answers
Bear Grylls Survival Tool Pack with Multi-Tool, Fire Starter & Flashlight Price History