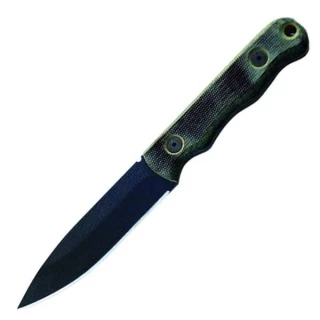 Ontario Knife Company Ranger Shiv, Black Micarta Handle, Black Blade, Plain Edge Knife
About Ontario Knife Company Ranger Shiv, Black Micarta Handle, Black Blade, Plain Edge Knife
The Ontario Knife Company Ranger Shiv is a versatile and reliable knife suitable for a variety of outdoor activities. The blade, made of 1095 carbon steel, is durable and strong, able to withstand heavy use and abuse. The black powder-coated finish gives the blade a sleek and stealthy look while also providing added protection against rust and corrosion. The plain edge allows for precise and effortless cutting, making it a great choice for everyday tasks and survival situations.
The black Micarta handle provides a comfortable and secure grip, even in wet or slippery conditions. Micarta is a durable and lightweight material that is easy to maintain and will not warp or crack over time. The handle also features a lanyard hole for easy attachment to a backpack or belt, making it easy to carry and access when needed. The Ranger Shiv is an excellent choice for hikers, campers, hunters, and anyone who needs a reliable and sturdy knife for outdoor adventures.
The Ranger Shiv comes with a black nylon sheath for safe and convenient storage and transport. The sheath features a belt loop and snap closure, allowing you to securely attach it to your belt or backpack. Whether you are heading out on a weekend camping trip or need a reliable tool for everyday use, the Ontario Knife Company Ranger Shiv is an excellent choice that will not disappoint.
Ontario Knife Company Ranger Shiv, Black Micarta Handle, Black Blade, Plain Edge Knife Reviews
Ontario Knife Company Ranger Shiv, Black Micarta Handle, Black Blade, Plain Edge Knife Questions and Answers
Ontario Knife Company Ranger Shiv, Black Micarta Handle, Black Blade, Plain Edge Knife Price History