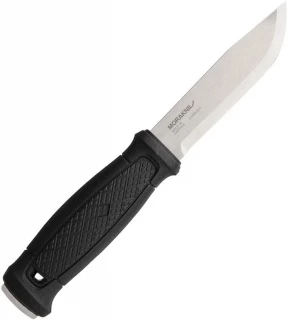 Morakniv Garberg Full Tang Knife, 4.3" 14C28 Blade, Polyamide Handle
About Morakniv Garberg Full Tang Knife, 4.3" 14C28 Blade, Polyamide Handle
The Morakniv Garberg Full Tang Knife is a reliable and durable cutting tool designed for outdoor enthusiasts and survivalists. Featuring a 4.3-inch blade made of high-quality 14C28 steel, this knife offers excellent edge retention, corrosion resistance, and toughness. The full tang construction ensures maximum strength and stability, while the polyamide handle provides a comfortable and secure grip even in wet or cold conditions. The knife also comes with a multi-mount sheath that allows for versatile carrying options and easy access.
Whether you're camping, hiking, hunting, or engaging in other outdoor activities, the Morakniv Garberg Full Tang Knife is an essential tool that can handle various cutting tasks with ease. The blade's drop point shape and Scandinavian grind make it suitable for slicing, carving, and chopping, while the spine's 90-degree angle allows for use with a fire starter or other survival tools. The handle's ergonomic design and textured surface provide a non-slip hold, while the lanyard hole allows for additional customization and convenience.
In summary, the Morakniv Garberg Full Tang Knife is a high-quality and versatile knife that offers exceptional performance and durability. With its robust blade, comfortable handle, and practical sheath, this knife is an excellent choice for anyone who needs a reliable cutting tool for outdoor adventures or survival situations. Whether you're a seasoned adventurer or a novice explorer, the Morakniv Garberg Full Tang Knife is sure to become a trusted companion on your journeys.
Morakniv Garberg Full Tang Knife, 4.3" 14C28 Blade, Polyamide Handle Reviews
Morakniv Garberg Full Tang Knife, 4.3" 14C28 Blade, Polyamide Handle Questions and Answers
Morakniv Garberg Full Tang Knife, 4.3" 14C28 Blade, Polyamide Handle Price History