Benchmade Adamas
About Benchmade Adamas
The Benchmade Adamas was designed by Shane Sibert. This knife features a CPM CRU-WEAR blade that can hold up to rigorous tactical use. The handle has machined scales over skeletonized stainless steel liners, providing grip without adding extra weight. Constructed with an AXIS lock mechanism and a reversible pocket clip, this knife is truly ambidextrous. The Adamas from Benchmade is an unconquerable knife and the perfect addition to your bugout bag, hunting pack, or just your pocket.The Benchmade 275 Adamas was designed to honor our troops and a portion of the proceeds will be donated to the Ranger Assistance Foundation!
Benchmade Adamas For Sale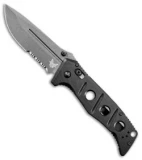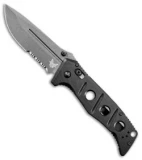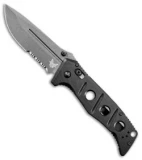 Most Popular Folding Knives
Benchmade Adamas Variations
Specifications

Brand
Benchmade
Category
Folding Knives
Overall Length
8.93"
Closed Length
5.11" (130mm)
Blade Length
3.82"
Blade Thickness
1.40"
Blade Steel
CruWear Cru-Wear D2
Blade Finish
Tungsten Grey Flat Earth Black
Handle Material
G-10
Pocket Clip
Tip-Up
Lock Type
Bar Lock
Weight
6.45 oz.
Country of Origin
USA
Blade Material
CPM CRU-WEAR
Hardness
63-65 RC
Blade Style
Drop Point
Blade Grind
Flat
Finish
Gray
Edge Type
Serrated
Handle Length
5.20"
Handle Thickness
0.63"
Color
Black
Frame/Liner
Stainless Steel
User
Right Hand, Left Hand
Sheath
Nylon
Knife Type
Manual
Opener
Thumb Stud
Model
Adamas
Model Number
275SGY-1
Designer
Shane Sibert
Best Use
Tactical
Product Type
Knife
Daily Deals

Benchmade Adamas Questions and Answers
---
Ratings and Reviews
Big boy
Outstanding action buttery smooth typical of a Benchmade
Maybe just slightly below a 5-star, but not much
My primary use for knives in this size class is game handling from field dressing to boning out to cutting for packaging. I need good edge retention and sometimes even the very hard steels get dull in the field. This will be my first experience with CruWear. I hoping for good edge retention along with not having to work so hard regaining a edge in the field. This brings me to my… read more only possible complaint which might drop a 5 star to a 4.9 star rating for me. I prefer a very polished and truly razor edge. This knife while sharp out of the box was not a smooth polished edge but looked more like it had very fine "grind" marks left from the initial edge making angle. The sliver lining to that was it gave me a chance to 'feel' the steel and how it worked. Based on that I believe it will be very good in the edge retention area and yet be very workable to re-sharpen in the field. Oh and the free engraving was a nice extra. This blade is worth the money when so many are not. It carries well , though fairly large, and will be in my jeans pocket almost daily.
Tank
This knife is a tank, looks like a tank feels like one, but surprisingly it's light. Action is perfect centering Is perfect. Handle could use a tad bit of more grip. Only complaint is the sheath only wish it could be molle and a belt sheath. The snap is backwards with velcro to hold open.
Awesome tank of a knife
This knife opens with authority and it's great. No side to side blade play. Centering is spot on it also fits well in my hand. And for a large knife it almost disappears in my pocket
Beast!
This thing is absolutely fantastic - Big, beefy but still has amazing action. This is by far my favorite Benchmade so far.
Perfect
Well I debated ordering this knife a dozen times. And finally pulled the trigger. All I can say is Wow this baby is perfect. Built like a tank but not super heavy. Fits in your hand perfect. Very happy Thank you DLT trading for unbelievable fast shipping. Mr Fowler
A New Favorite
This knife has become a regular in my EDC rotation. It's a little bigger than most knives that I carry and for that reason I didn't think I would use it much other than when hiking/backpacking. Dispite it's size it carries really well. The weight would be a bit much for lightweight shorts or pants but for jeans or work pants I've had no issue. This knife is a beast,… read more rank it right up there with my Microtech Socom Elite.
Nice knife
Nice, smooth action. So good I'm waiting for the grey version to get back in stock. Good EDC. Your mileage may vary. I hope this helps . Jef C.