Microtech Cypher
Featured Deal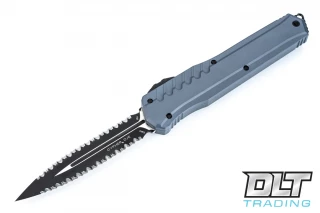 Microtech Cypher
This Cypher MODel is outfitted with a double-edged dagger blade in a stonewashed finish and a black aluminum handle with bead blast hardware. The Microtech Cypher OTF is a production version of the popular A. Marfione / D.C. Munroe custom collaboration. This MODel is equipped with a black double-edged blade. Its stylized handle is made from lightweight aluminum with a black anodized finish and a titanium milled pocket clip.Features: Unique handle design offers a firm, reliable grip. Milled titanium pocket clip for comfortable tip-down carry. Resilient Bohler M390 stainless steel blade provides a high performance cutting edge. ...read more
Microtech Cypher For Sale
Most Popular OTF Knives
Specifications

Brand
Microtech
Category
OTF Knives
Overall Length
9.61" (244mm) 9.75" 9.625"
Closed Length
5.71" (145mm)
Blade Length
4.06" (103mm) 4.00"
Cutting Edge Length
3.75" (95mm)
Blade Thickness
0.128" (3.23mm) 0.13"
Blade Steel
Elmax, M390 or 204P
Blade Finish
Black Tan
Blade Style
Dagger Wharncliffe Drop Point
Edge Style
Full Serrations Plain
Handle Material
Gray Aluminum Black Aluminum Aluminum Alloy Stainless Steel
Handle Thickness
0.47" (11.84mm) 0.47" 0.48" 0.46"
Pocket Clip
Tip Down Tip-Down
Weight
4.2oz (119.07g) 4.33 oz. 4.34 oz. 3.95 oz. 4.10 oz. 4.14 oz. 3.94 oz. 4.03 oz. 4.02 oz. 8.47 oz. 4.00 oz. 7.72 oz. 4.04 oz. 7.70 oz. 4.26 oz.
Manufacturer Ref. #
242M-D3GY 242M-1TNB
Country of Origin
USA
Model
Production Continental Set Cypher MK7 Cypher
Best Use
Collection Tactical
Product Type
Knife Set Knife
Cutting Edge
3.75" 3.875"
Blade width
0.75"
Blade Material
Bohler M390 Damascus Elmax
Blade Grind
Flat Hollow
Finish
OD Green Tan Black Stonewash Mirror Bronze Black, Gray Red Satin Acid Wash Blue Black, Mirror, Satin Bead Blast, Stonewash
Edge Type
Plain Serrated
Handle Length
5.75" 5.625"
Handle Width
1.125"
Color
Black Gray Tan OD Green Black, Gray
User
Right Hand Right Hand, Left Hand
Knife Type
Double-Action OTF Automatic
Opener
Thumb Slide
Model Number
242M-1GRBK 241M-1TNBK 242M-1 GRB 241M-1 DLCGY 241M-10 242S-D12 APTA 242S-D3 TA 241M-10GY 241S-1 241S-13KAOD 242S-10 242S-1 242S-2OD 242S-1OD 242S-10OD 242S-12TA 242S-11TA 242S-10TA 242S-2T 242-3T 242-1T 242-10 241-1KA 241-1T 241-1GRB 241-1SL 241-10 241M-10 AP 242M-D3T 242M-D3 GY 242M-1 TNB 242M-1 TNBK 241M-1 GY 242M-3 GY 241M-1RDB 242M-1 RDB 242M-1 RDBK
Daily Deals

Microtech Cypher Variations
Microtech Cypher Reviews James A.
I got a confession to make...
This was an impulse-buy. This thing came up on my wishlist and it was so cyber-punk-dead-sexy, I had to have it. I mean everything about it Microtech (quality, fit, finish, etc.), and I'm sure it would be a very competent EDC, but relative to my usual EDC, this thing's a beast.

So, if you've got deep pockets (figuratively and literally) and want an OTF with a sinful amount… read more of style, go for it. Noah Rossi
Microtech guality.
After using my Combat Troodon for awhile I decided to purchase this Cypher and it is fast becoming my choice EDC. Carries extremely easily to be a large knife. Typical Microtech launch and lockup quality,no defects anywhere.I was a little skeptical about the pocket clip,however,after using it I prefer this clip to any other I have ever used and that is saying a lot. Distinct click… read more when it releases, no way it will release accidentally. Wish all my knives had it. Elmax steel and very sharp. Arrived quickly and in mint condition. Will F.
Uughhh
So this knife sucks, quality is shotty!BLADE HQ just send me the remaining cyphers you have in stock I'd hate to inflict this burden on anyone else. Tae S.
Awesome Knife!
First ever Microtech so I was pumped to see what all the hype and fuss was about. It came very sharp and clean, couldn't find anything to complain about aesthetically.

My only complaints about Microtech is this specific pocket clip type; Which is SUPER tight and stiff, finger nail feels like it's going to break trying to get this thing on my pocket. Other complaint would… read more be the actual deployment slide, I think Microtech could have designed a better ergonomic slide - that doesn't shred your thumb up.

I personally like the high tension needed to deploy the blade and retract, seeing it'll most likely keep little kids/ unnecessary people from deploying/handling the knife. But, with the rough ergonomics of the deployment slide, and the tension, it shreds your thumb.

Overall, very slick and cool looking knife.

Semper Fi! Jeff D.
Great OTF
This is my 5th microtech knife. My 4th microtech OTF.
1. UTX 70 Elmax D/E
2. Ultratech trigrip bayonet. ( lost in Branson Mo)
3. Ultratech D/E smooth tan ( to replace the one I lost)
4. Microtech Tachyon 3 Balisong
5. Cypher D/E black
Anyway, I love them all. The cypher is biggest of them all and makes a statement when it fires. I like the new style pocket clip.… read more The knife is solid and perfect. Blade is sharp as #&[email protected] Thank you BladeHQ for the fast shipping. One of my microtech knives has been sent in to microtech service for cleaning and sharpening. Although I can sharpen very well, they are better. And it is awesome that the company takes care of their products like this. Ryan F.
Home run
The current description and pictures of this knife do not do it enough justice. I bought this for my collection and let me just say zero corners were cut here. Microtech went above and beyond for this particular model. Bohler M390 super premium steel, dual action switch milled titanium clip and all tactical black hardware and finish. Stepped contoured switch for slip resistant operation.… read more Oversized yet slim handle for excellence grip and discreet pocket carry. The internal spring remains at rest at all times making it ideal for both carry and display. Half plain edge half serrated for multiple cutting options for a variety of materials. The bottom corner of the pocket clip is cut so as to make it clip more easily to the lining if your pocket. In my opinion the best otf on the market today. Frank N.
Very snappy deployment
Very snappy deployment. Minimal blade play. Comfortable in the hand. A great knife. KEVIN M.
Not for me
I am a big fan of Microtech knives as I have bought quite a few from Blade HQ over the years. This one was a big disappointment.
The button on this knife is the worst, it is small and sharp on the edges and actually cut into my thumb after a few uses. Did not like the thin profile of this knife either,overall the knife seemed kind of cheaply made to me compared to all my other… read more Microtechs.
Blade HQ is the best place to buy from as they accept returns with no hassle. Thanks guys. Cody t.
perfect collectors piece
as a fan of large EDC (around 4") and as someone who'd never owned an OTF or a microtech for that matter, this knife hit every possible criteria for an otf i was after. i have two of these now, the https://www.bladehq.com/item--Microtech-Cypher-DE-OTF-Automatic--80742
and this one. i couldn't be happier, the action is fast and powerful, the quality of construction is superb.… read more totally worth the investment. having an entire edge serrated is also really cool to me. i can't recommend these enough. Cody t.
amazing knife
i bought this as a collectors knife, i carry it almost everyday anyway but i never use for intense applications. its so beautifully constructed and the materials are fantastic, the action is really fierce, and the safety is clever. for the cost of 2 ultratechs it really should be, i am really happy with it and have had no complaints since i got it in february. it came razor sharp… read more out of the box. this is the first of two OTF's ive owned and i genuinely have no complaints, there is an expected level of blade play (i understand its inherent to their design but its so minimal that you can't visibly ascertain the length of the play. i can't recommend enough. Kevin H.
I love the Cypher
I just purchased this Microtech Cypher knife and absolutely love it!! This is my favorite double action OTF to date that Microtech makes. I love the very smooth, fast action that this knife has with a very tight lock up. There is little to no play in the blade when it is extended. I also like the all black (tactical) look. Seth, thank you for being such a super sales person to work… read more with over the phone when ordering this. Seth was very professional, knowledgable, and helpful to me throughout the entire transaction and needless to say the transaction was very smooth from ordering the knife to receiving it the next day. Seth, thank you for all your help and also thank you for physically checking this knife prior to it being shipped. I have done business with BladeHQ for several years now and once again I'm a very happy customer with this most recent purchase. I highly recommend BladeHQ to anyone who is in the market for a high quality knife and also highly recommend the Microtech brand. Duane P.
Fantastic Knife
This is my new favorite edc. It's thinner and lighter than I expected, and sliding the button is a lot more difficult than I anticipated. This makes me feel way more secure about it not opening accidentally in my pocket. The stepping on the handle makes it very grippy, and the pocket clip allows it to be carried relatively deep in the pocket. The one negative is that it is way way… read more too expensive. It's hard to justify the cost when you could buy two fantastic folders.
Microtech Cypher Questions and Answers
---