Microtech Halo VI
Featured Deal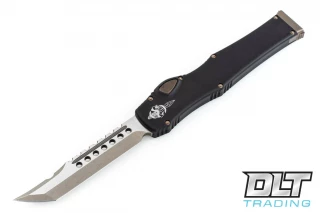 Microtech Halo VI
Microtech Knives | HALO VI This Halo VI special Halo VI features an orange distressed aluminum frame with a single-stage fire mechanism. That's right, this MODel does not include the two-stage safety that standard Halo VIs will be equipped with. Kydex sheath included. NOTE: This version does not include the safety that is typically found on the release button. ...read more
Microtech Halo VI For Sale
Most Popular OTF Knives
Specifications

Brand
Microtech
Category
OTF Knives
Overall Length
10.67" (271mm) 10.56" (268.22mm) 10.50" 10.625"
Closed Length
6.15" (156mm) 6.23" (158.24mm)
Blade Length
4.41" (112mm) 4.34" (110.24mm) 4.375"
Cutting Edge Length
4.18" (106mm) 4.18" (106.17mm)
Blade Thickness
0.158" (4mm) .174" (4.42mm) 0.17" 0.16"
Blade Finish
Bronze Apocalyptic Stonewash
Blade Style
Hellhound Tanto Drop Point
Edge Style
Plain
Handle Material
Black Aluminum Distressed Orange Aluminum Aluminum Alloy Stainless Steel Aluminum, Copper Aluminum, Carbon Fiber
Handle Thickness
0.52" (13mm) .51" (12.95mm) 0.51" 0.52"
Pocket Clip
Tip-Down
Weight
4.3oz (121.91g) 5.95 oz. 6.04 oz. 5.85 oz. 5.96 oz. 10.53 oz. 10.58 oz. 10.61 oz. 7.75 oz. 5.54 oz.
Manufacturer Ref. #
519-13NS 519-10DOR
Country of Origin
USA
Blade Steel
Elmax or M390
Length
3.75"
Width
2.50"
Carry
Belt
Material
Kydex
Model
Halo VI Halo 6
Product Type
Sheath Knife
Cutting Edge
4.00" 4.125"
Blade width
0.75"
Blade Material
Bohler M390 CTS 204P Premium Steel
Blade Grind
Flat Hollow
Finish
Bronze Satin Black Stonewash Mirror Black Stonewash Bead Blast, Stonewash
Edge Type
Plain Serrated
Handle Length
6.125" 6.25"
Handle Width
1.25" 1.00"
Color
Black Tan Gray Red Orange Blue OD Green
User
Right Hand
Knife Type
Single-Action OTF Automatic
Opener
Push Button
Model Number
519-13 250-4TA 250-5 250-3 250-11 250-1 250-2 251-2 250-4 251-4 251-10 251-1 250-10 519-1 DLCT 250-1DLCT 250-10 DRD 250-10 DOR 519-10 DBL 519-10 DOR 519-10 DRD 250-10 OD 250-10TA 250-11AP OD 250-5 OD 250-4 OD
Best Use
Tactical Collection, Tactical Collection
Sheath
Kydex
Daily Deals

Microtech Halo VI Variations
Microtech Halo VI Reviews Mark c.
Best Microtech
I have 20 some Microtech knives and this is the best! This is what out the front knives are all about. James B.
Worth it
You there, reading this. You're wondering if it's worth it aren't you? You could buy two guns at this price. Or 3 ultratechs. Or, you could have the most satisfying, jaw dropping blade you've ever felt. Manuel V.
WOW..... JUST WOW!!!
If you like, collect, or are just thinking of getting your first Microtech OTF.... The Halo VI is a must. Russel B.
Grail Achieved
Well I've always wanted a halo ever since I could remember, I never thought I'd get one and I just so happen to have 660 bucks so I said why not, and I have no regrets, this is one I wont be selling or trading off.
Microtech Halo VI Questions and Answers
---