Schrade Viper
Featured Deal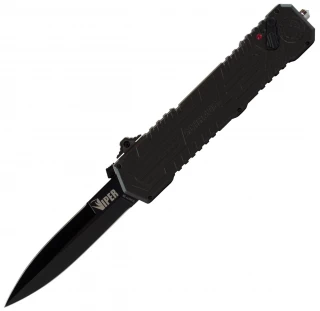 Schrade Viper
Schrade's Viper OTF looks like a design from the future. The tanto bladeis made of AUS-8 high carbon stainless steel with a black finish. The futuristic handle is crafted from black aluminum so it's lightweight and easy to manage. To open the blade, switch off the safety lock and press the sliding release forward. The knife opens fast and smoothly, and the lock up is tight. To close the blade, push the small blade release button forward, the slide the blade back with the bottom actuator until it locks into place. The pommel of this knife features a small glass breaker tip and a removable, tip-down carry pocket clip. ...read more
Schrade Viper For Sale
Most Popular OTF Knives
Specifications

Brand
Schrade
Category
OTF Knives
Assisted Open
Yes
Blade Color
Black Silver/Gray
Blade Edge
Plain Partially Serrated/ComboEdge
Blade Length
3.50 3.5 3.60 3.2 2.50 3.35 3.50" 3.375"
Blade Material
Stainless Steel (4034) Stainless Steel (AUS8) Stainless Steel
Closed Length
5.30 4.9 3.65 5.15
Handle Color
Black Silver/Gray
Handle Material
Aluminum
Knife Type
Folding Single-Action OTF Automatic Spring Assisted
Knife Weight
4.9 0.31 3.9
Lock Type
Slide lock None Side lock Safety Lock
Pocket Clip Included
Yes
Point
Spear Point Tanto Drop Point
Sheath Included
No
Total length
8.8 8.50 7.5 6.15 8.5
Overall Length
8.75" 8.50"
Cutting Edge
3.375" 3.25"
Blade Style
Spear Point Tanto
Blade Grind
Flat
Finish
Satin Black
Edge Type
Plain Serrated
Handle Length
5.25" 5.125"
Color
Gray Black
Weight
4.90 oz. 4.53 oz.
User
Right Hand
Pocket Clip
Tip-Down
Opener
Thumb Slide
Model
SCHOTF Viper
Model Number
SCHOTF3B SCHOTF8TB SCHOTF8B SCHOTF8TBS SCHOTF8BS
Country of Origin
China
Best Use
Everyday Carry Tactical
Product Type
Knife
Blade Thickness
0.11"
Handle Thickness
0.66"
Sheath
Not Included
Daily Deals

Schrade Viper Reviews Adam C.
Great knife
This thing is sick. Smooth action little weight yet sturdy. The blade itself is sharp but just 5 min on a stone and I can shave DJ G.
Bought 2, both jammed on me
I purchased this knife to replace my old OTF knife that has served me well for the past 5 years and when I first got it I was very happy with the knife overall, within a week my 1st knife jammed and the blade would not come out no mater what. BHQ was super nice and they refunded me for it within a few hours of contacting them. I ordered the 2nd same model and even though it worked… read more for about 3 weeks longer than the 1st now it too has jammed and no matter what I do the blade will not come out.

BHQ let me keep and dispose of the original knife so I decided to open it up to see what was going on, inside there is a small plastic part that engages/disengages the safety when you move the outside switch. That part had chipped on the 1st knife and was no longer high enough for the outside switch to actually move it back and forth. Why they chose to use plastic for a part that is crucial in a knife that by definition moves the insides every time you need to use it I am not sure, metal of any type would have been a better choice. Also I get that the space is limited inside by a safety switch that is about 1mm thick inside a moving mechanism was also not a great choice.

In closing I really liked the knife, outside build was good, weight was good, blade was extra sharp and it looked great but in the end if the blade jams inside I don't really have a knife hence the 1 star rating. Nothing else really matters when the thing is unusable, makes a great paperweight but not a great knife. Tim B.
That didnt last long.
I loved this knife when I first got it. Its a bit large, boxy and the button layout not very intuitive. Hey its a cheaper knife I get it, but after two months the blade when under pressure would retract. That did it for me! If you are looking at this you get what you pay for. If you want something a bit more.... then up your budget. Albert K.
Stiff action, needed oil
Blade would not lock out consistently. I used it, after manually pulling the blade out and getting it locked, and oiled it. The switches are very stiff and difficult to use for an old man. Feels a bit like a toy. Oil helped but may need to return it if it doesnt smooth out. Cory I.
Good blade, good action
Feels good in the hand and fires very well. Great fidget knife. CHRISTOPHER G.
Good Knife
Purchased it about a week ago, Love the knife sort of. It is a nice knife came sharp good for a beater knife at work. The knife itself feels bulky and the release mechanism works fine. I wouldn't recommend it as a "daily carry" due to the side recharging handle causing a mess if you are trying to get it out quick. overall good little knife if you want to beat the heck out of it… read more at work. Chris p.
Schrade Viper Tanto OTF
Good knife, it's my first otf knife so it surprised me a little. I must say for a knife that cost $40 it's pretty solid. I've been playing with it a lot and it didn't let me down yet. Scary though it makes me want to buy a high end otf haha.

If you're think about buying one I would go for it, it's pretty good. Tim s.
Tim
great knife not just for the money but overall nice solid action feels good in my hand opens fast locks solid more than satisfied Sveinbjorn r.
I dont know if it was just defective
I received mine and i was excited to have one. The problem I had was that when i engaged the blade, I could easily push the blade back in with my fingers. It wouldnt lock up enough to be useable for anything other than extremely light use. It wouldnt even work for a defensive situation because they blade would retract with any amount of pressure applied. Blade HQ Was nice enough… read more to Refund it, Im going to pay the difference for a more reliable knife from a bigger brand name. Hans K.
Good entry level OTF.
At this price you can't go wrong. If you've never had an OTF knife, I highly recommend this one. It's a single action knife- which I've never been a big fan of- but it offers super quick deployment, a good lock up and excellent durability with its aluminum housing. I love mine! Ethan T.
Great knife!
I recently purchased this knife and I have zero complaints so far. Comes sharp and is fun to play with. what more could I want👍 Blake p.
It's a otf that's legal
I live in North Carolina and we have a law which is crazy that you can own auto otf knives but you can't carry them unless opened not being aware of this I carried my infidel for like a week. Until I looked at what the laws where here so this is the next best thing. Being completely honest in a way it's better if you actually planned on using your knife that way you won't be scared… read more using your expensive infidel. Ranoj o.
Thwack!
For $40, I had to pick 2 up! Picked up a Spear point and Tanto version. In my opinion, best single action budget OTF knives on the market.The blade shoots out with authority, works like a charm every time and locks up solid! Not to mention razor sharp out of the box! If you're looking for a quality, reliable and BUDGET OTF, this is the one. Nice addition to the EDC rotation! Kyle K.
Happy
Best 40 bucks I've spent on a knife! Handle is a little on the big side, but feels good in hand. Would recommend for a OTF. Cheap price NOT a cheap knife. Christopher K.
Excellent OTF for the $$$$
I bought one of these and have had it for two months. It ejects the knife auto but retracts manually. The quality for the money is top notch. it snaps out strongly. There is pretty much zero play on the blade. I have some otf knives that cost 4 to 10 plus times the price and have more play. The material of the knife are well made too as well as the knives being very sharp. The safety… read more button works well and of coarse when shooting it it has the safety feature like most to not fire the whole knife out. Like it so much will probably get another one. Get one you shall not be disappointed!!!!! Andrew p.
Awesome knife
This is an awesome knife. I just got mine in the mail today like 4 days after i ordered it which is cool also, but the knife is better quality than i expected doesn't look cheap at all and no blade play at all i have many other more expensive knives with more blade play and the AUS-8 blade is super sharp right out of the box. Definitely recommend this knife if your interested in… read more it. James V.
Great OTF For The Money!
I have to agree with Matthew. This is a great knife for what you pay. Solid with no blade wobble. Very well made and I am so happy with it. If you long for a Microtech but cannot afford one get one of these, I am sure you will like it. As always, great service from the BHQ folks. Super fast shipping. All of my autos came from BHQ, I see no reason to shop elsewhere.Great to do business… read more with someone who cares about their customers. Joshua M.
Shcrade hit it out of the park with this one.
I've been eyeing this knife for a while and finally ordered one. NOT disappointed. This is such a solid knife, especially considering the price. The firing, safety, and lock release mechanisms are all perfect. The blade fires very powerfully for example with a Lightning or Titan, you can fire it into a sheet of paper and barely puncture the paper, whereas this knife would punch… read more right through cardboard and keep going for an inch or so. Also, the steel being AUS-8, you can tell the second you touch this knife that it has a *much* better blade than other knives in the Schrade OTF category (the ones with the release button on the bottom are crappy 4000-series stainless steel not fit for letter openers). Another thing I liked about this knife is the edge it came with very sharp. The handle texturing design seems random in places but the knife is very grippy overall and comfortable to hold in the hand in any grip configuration. Also, the glass breaker is awesome I don't know if it's steel or tungsten but I do know I had no trouble etching glass with it. It etched the glass even better than the one on my CRKT M1614LE which I know is tungsten. I also really love the fact that this knife is technically legal but still looks and operates like a single action front-firing automatic. And this review would not be complete if I didn't mention the fact that after personally handling this knife and handling the Benchmade Infidel, I can tell you that the $400 Infidel has MORE blade play than this $40 Schrade. Folks, for $40 this is a ridiculously solid knife and it gives me new respect for Schrade. If you can't find/afford a real Dalton Cupid (the one the Joker used in The Dark Knight) and you can't bring yourself to get some crappy no-name Cupid clone cause they are suck-a-riffic, then this knife is the answer. Matthew b.
happy man!
First off I am beyond satisfied! The knife is everything promised and more! Smooth crisp action zero blade wobble. Purely perfect in every way. Shipping was faster than promised and I'm one happy man. 10 out of 5 stars, will be my only source for cutting tools, carry defense and work alike. Good job guys!! Proud to be a returning customer!
Schrade Viper Questions and Answers
---