Andersson and Copra Urban Huskey: A stylish modern take on a traditional pattern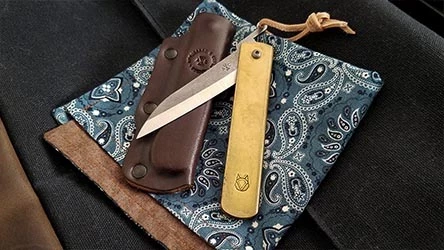 by:anonymous
The Andersson and Copra Urban Huskey is definitively not a Higonokami. That knife has been around for well over a hundred years, and there is but one manufacturer of Higonokami. This is a Swedish built, higonokami-style knife. It has some modern twists, and an outstanding high-quality build that simply feels amazing in hand. Andersson and Copra tells us that's because each Urban Husky is, "…built by our hands, one at a time. Our meticulous hardening process combined with the optimized chemistry of a top-grade knife steel gives excellent edge performance, high hardness and good corrosion resistance to ensure you get the most out of your cutting."
The Urban Husky is traditional, friction folding pocketknife with a 2.875" Sandvik 14C28 drop point blade with a 0.08" blade thickness. Now, if you'll look closer at any of these images, you'll see these knives have a Scandi grind.Which is just stinking cool.Not only is that a seriously versatile grind to use, its easy to sharpen. That's a good thing because once you get this bad boy sharpened, it has a 63 HRC so it should hold its edge for substantially more than a minute.
The blade rides on phosphorus bronze washers, and it has an easily adjustable pivot. That means you can customize how easily you want your knife to open and close. The solid brass or copper handles have a handle thickness of 0.22" and they're sturdy without being overly beefy. This knife is 3.8" closed, weighs 2.24 ounces, and it comes with a molded leather sheath that simply and securely slips right in your pocket.
Andersson and Copra Urban Huskey Details
Sandvik 14C28, Natural Finish
2.875" Drop Point
0.08" Blade Thickness
Scandi Grind
63HRC
Traditional Friction Folder
Brass or Copper Handle
Adjustable Pivot, Phosphorus Bronze Washers
Molded Leather Sheath
2.24oz.
3.8" Closed
6.75" Overall
Made in Sweden
The Andersson and Copra Urban Husky is a beautiful Higonokami styled knife. It's a well-built knife made with great materials. If you're interested in this knife, click any link in the article or simply click the button below.
---