Vox says CRKT Ibi pronounced Ee-bee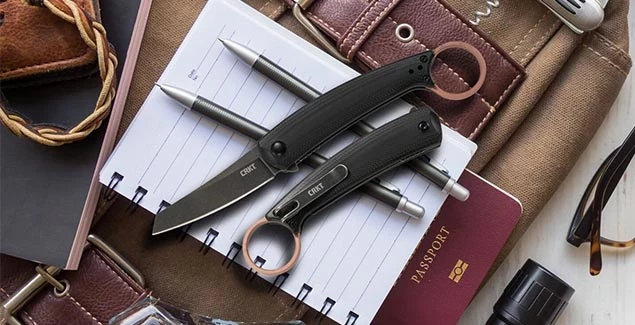 by:anonymous
As Horatio says in Shakespeare's Hamlet, "There's something rotten in Denmark." It's the pronunciation of the names of new CRKT knives. Take for example the sleek new Vox-designed CRKT Ibi. My East Tennessee brain tells me that's "ih-bee", but it's not. According to famed Danish knife designer, Jesper Voxnaes, it's "ee-bee". See what I mean?
The CRKT Ibi is as different as it's Danish name. It's sleek, slender and even has a copper finger ring, but you'd never mistake it for a Karambit. CRKT says it's what happens, "When your EDC thinks it's a kubaton."
The CRKT Ibi features a 2.7″ D2 sheepsfoot blade with a black stonewash finish. Except this sheepsfoot is .15″ thick and is upswept if you squint your eyes and look at it really hard. That's because unlike a standard sheepsfoot that has a straight belly, this one has a long curved belly that round outs the long, loose S-shape formed when the Ibi is fully open.
It's also a manual flipper with the IKBS Ball Bearing System. The handles are grippy, black G-10 on this liner lock, and there's a copper finger ring at the butt of the knife. In fact when it's closed and dangled by the finger ring, this thing reminds me of a Marlin (minus the sail and the sword) hung up to be weighed on the docks.
It's 4.8″ closed (including the ring) and 7.5″ overall, and the ambidextrous tip-up pocket clip allows just the ring to ride above the pocket line. The blade all but disappears into the handle when it's closed, making a very slim, light pocket carry at just 2.8oz.
CRKT Ibi Details
2.7″ D2 Modified Sheepsfoot Blade
Black Stonewash Finish
.11″ Thick
 Manual Flipper
IKBS Ball Bearing Pivot
Liner Lock
Black G-10 Handles
Copper Finger Ring
Ambidextrous Tip-up Pocket Clip
4.8″ Closed
7.5″ Overall
Weighs 2.8oz.
We love that CRKT isn't afraid to try new things from great designers. The Vox-designed CRKT Ibi definitely fits in that framework. It's different than most everything on the market in 2021. If you're interested in this knife, simply click any link in this article or the button below.
---