Benchmade 535 Bugout
About Benchmade 535 Bugout
The Benchmade Bugout 535 knife was designed for the MODern outdoor adventurer, incorporating the lightest, best performing materials in an extremely slim yet Ergonomic package.
Benchmade 535 Bugout For Sale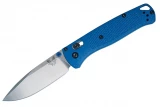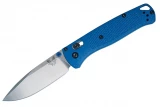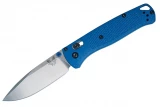 Most Popular All Knives
Benchmade Bugout Variations
Specifications

Brand
Benchmade
Category
All Knives
Overall Length
7.46" (189mm)
Closed Length
4.22" (107mm)
Blade Length
3.24" (82mm)
Blade Thickness
.090" (2mm)
Blade Steel
S30V
Blade Finish
Satin
Handle Material
Grivory
Pocket Clip
Yes, deep carry tip up, right or left
Lock Type
Axis
Weight
1.85oz
Country of Origin
USA
Daily Deals

Benchmade 535 Bugout Questions and Answers
---
Ratings and Reviews
Perfect EDC
At first I thought it looked Cheap but after actually using it I absolutely love it ?. Perfect fit in pocket, nice steel, had to put my own razor sharp mirror edge on it with a Hapstone k1
Another 5-star review for a great knife, amazing steel, and surprisingly high fidget factor
I just recently purchased a 535 Bugout. Up until know I had been resisting the hype. But I was in the market for a lightweight folder and all roads seemed to lead to a Bugout. I mainly carry either a Hinder X-18 3.5" or an Emerson. But those are big bulky blades and in many cases to much blade for the job or too much weight in the pocket. I finally broke down and picked up… read more a 535 Bugout from DLT. I'm so happy with my purchase. It is a great blade and steel in an ultra lightweight frame/scale. I love the shape of the blade and it seems to be holding up to EDC tasks better than my CM154 based benchmades (which to be honest were still decent). However the one thing I will point out is any Benchmade Axis lock as a super high fidget factor, which is a good thing. I find myself playing/fidgeting with it all day long. And since we are currently "sheltered in place", it gives me something to do :-)
Ultra-light, ultra-quality, ultra-good looking, EDC
This knife is absolutely brilliant at being the best at what it's designed for. And "what exactly is it designed for?" You might ask, the answer is EDC, the lightest, best looking, great steel having, best locking mechanism having, EDC there is. Is it great for bug out situations? No, but that's what fixed blades and Cold Steel's triad locks (Recon 1 anybody?) are for. Is it great… read more at being an ultra light, ultra reliable, ultra fast, ultra good looking, ultra one-handed operating, high quality steel scalpel that it was designed to be? ABSOLUTELY! This knife hasn't left my pocket (other than for use) since I got it, the rest of my EDC knives are collecting dust. Is it a little pricey? Maybe a bit, but IMO the S30V steel, AXIS lock, 1.8 OZ weight, and overall beauty and attention to detail makes it worth the price. Just don't go batoning with it and I think you'll be glad you bought it!
Excellent product and Excellent service!
This knife is awesome, and the customer service from DLT Trading is even ausomer!
Great folder, only one minor criticism
Classic, versatile drop point and surprisingly comfy handle-- more so than many of BM's much spendier models. The Grivory/FRN has held up well and no hot spots for me with sustained use. Still, it 'gives' and oh-so-slightly flexes, unlike a folder with full liners or a stronger material like Titanium, carbon fiber, etc. The latter would jack up the price considerably, and add a… read more little more weight. The ribbed plastic interior also picks up more gunk than, say, my Delica (and the Axis attracts more gunk than other locks). But at this price point, it is a decent compromise; plus, my buddies who are ultralight jihadis now have less justification for carrying a real knife. :-)
DLT was awesome to work
DLT was awesome to work
Love the knife. Fast shipping.
Love the knife. Fast shipping. Thanks
Fantastic knife. Impeccable build quality.
Fantastic knife. Impeccable build quality. Can't beat it for a lightweight EDC.
Love the Bugout! Another great
Love the Bugout! Another great transaction with DLT!
Excellent implementation of a lightweight
Excellent implementation of a lightweight folder with a premium blade steel.
This was a gift for
This was a gift for
A lightweight war machine... Highly
A lightweight war machine... Highly recommended
Sweet Knife!!
Sweet Knife!!
Still digging this knife. With
Still digging this knife. With some many options out there, it really comes down to personal taste. It's light and thin, good steel, and the blue handle makes it very non-threatening. Good workplace EDC. My full review cam be found on Preparedmind101 on Youtube.
Great service, fast postage and
Great service, fast postage and handling
Very friendly customer service, fast
Very friendly customer service, fast shipping. Good job DLT!
Fast shipping! Nice Lightweight Knife.
Fast shipping! Nice Lightweight Knife. Bandaids came in handy!
Thanks DLT.
I wear khakis daily and
I wear khakis daily and I wanted a knife with a small footprint and low weight to put in my back pocket. The Bugout fits the bill perfectly. It does not feel flimsy or cheap, and the blade steel is S30v.
Love the design. Love the
Love the design. Love the thinness and super-light weight (less than 2oz.). Came perfectly centered. Loosened up the pivot just a hair and now the action is perfect too. Thanks DLT, the transaction was perfect and I appreciate you having it in stock when nearly everyone else was back ordered.
Outstanding
This new knife by Benchmade lives up to the hype, ultralight without giving up any of the blade integrity we expect from them.
Only issue, I requested engraving
Only issue, I requested engraving on the handle , however my engraving was placed on the blade
Once again, Benchmade delivers!
I started my love of benchmade in the 1980's with my first balisong. Next was my benchmade CQC7 in the mid '90s. Then I married a woman who collects benchmade knives, so yes, we own a few. The 535 Bugout does not disappoint. As an ultralight folder, it completely disappears in my pocket. We have the 530s, and while thin and light, the blade type is very specialized. The 535's blade… read more is much more utility based in design (use my pocket knives daily, have yet have the need to dagger something). This is beautiful, I can not praise the designers/builders enough on this. The super thin blade has to be my favorite thing. Too many knives are so ever built, that they become clumsy folding cleavers! Not this, it is absolutely perfect and I hope benchmade makes more knives with blades this thin! I have an axe and a crowbar, let a knife be a knife!
Homerun, Touchdown, Hat-Trick, 300 Game, Hole-in-One, Bullseye!
Finally! I've been waiting for years for someone to make this EDC knife, and since my first priority was the Axis-Lock, it had to be Benchmade. It took them too long, but they finally got it right. All previous efforts were too bulky, or too heavy, or short-bladed, or long-bladed. This time, from the perfect blade shape with the right steel, light-weight comfortable handle with… read more just-right handle width, good pocket clip, and even a generously-sized thong-hole. These are the bomb...now for some additional colored handles (I like medium gray, hint, hint.)
Excellent knife
Engraving was perfect, fast delivery

The knife was great too.
Favorite Benchmade
I'm not a fan of blue handles, so except for that this is my favorite EDC of well over 100 folders I have owned and liked a lot.
With silky smooth action, the ambidextrous fit and feel are spot on. The ideal length , shape , thinness and grind of the blade. The pocket clip; the weight and balance, beauty( except color) also home runs.
Probably not for heavy use ,… read more but surprisingly solid and strong for such a lightweight.
Jimping is minimal yet not important as the grip is so secure.
So, waiting for other colors, maybe aluminum handles, S35VN steel and I will have other favorite EDCs.
535 Bugout Axis
Great knife. Light durable and sharp. Just what I was looking for.
Bugout
This knife is great. I have owned over 50 Benchmade styles throughout the last 8 years. This knife is in the top 5 in my opinion. The action and deployment is very smooth. Much better than the comparable 530 and 531. It has a solid lockup and NO blade play while being extremely light in the pocket. The centering was spot on as well. The knife exceeded my expectations and DLT trading… read more was super easy to deal with. Very satisfied with this purchase!
Perfect EDC!
The Bugout has kicked all my other edc knives out of my pocket. I can't say enough good things about this knife. It's shaving sharp, lightweight, carries deep in the pocket, deploys like a rocket, and is beautiful to look at. Nuff said!!
Very fast send. Knife exceeds expectations.
Very fast send. Knife exceeds expectations. Not much more to say. Hope to get a lifetime out of this knife.
Super thin. Super light.
Love the bug out. This knife fits in the pocket so well. It's so light and thin you forget it's there. Quick and sharp blade. Love the Chicago Cubs blue also!!