Fiddleback Forge Geisha
About Fiddleback Forge Geisha
The Fiddleback Forge Geisha is a handcrafted knife that is designed for versatility and elegance. This knife features a full tang construction, which means that the blade runs the entire length of the handle. This creates a strong and durable knife that can handle heavy use. The blade is made from high-quality CPM S35VN steel, which is known for its excellent edge retention and corrosion resistance.
The Geisha's blade is 3.75 inches long, making it an ideal size for a variety of tasks. Whether you need to slice through meat, chop vegetables, or whittle wood, this knife can handle it all. The blade has a flat grind, which creates a sharp edge that can easily slice through tough materials. The handle is made from beautiful stabilized curly maple, which not only looks stunning but also provides a comfortable grip.
The Fiddleback Forge Geisha is a knife that is made to last a lifetime. It is not only functional but also a work of art that will impress anyone who sees it. This knife is perfect for anyone who appreciates the beauty and craftsmanship of a handmade knife. It is also a great choice for anyone who needs a reliable knife for everyday use.
Fiddleback Forge Geisha For Sale
Most Popular Bowie fixed knives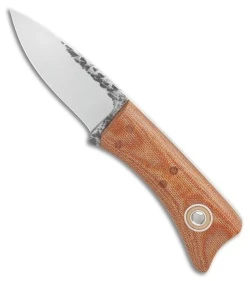 The Fiddleback Forge Geisha is a handcrafted knife that is designed for... read more
Fiddleback Forge Geisha Detailed Review
This review will examine a knife's materials, construction, shape, functionality, durability, and usability to provide an objective assessment of its quality and performance. We will evaluate the blade material, construction precision, handle quality, cutting ability, durability, and maintenance requirements to provide valuable insights into the knife's usability.
Materials
The materials used in the Fiddleback Forge Geisha are of high quality and durability. The blade is made from 3/32" A2 tool steel with a full flat grind, making it easy to sharpen and maintain a sharp edge. The handle is made from various options such as curly maple or micarta, providing a comfortable and secure grip. The knife also features a brass lanyard tube, adding an additional touch of elegance to the overall design.
Construction
The construction of this product involves a meticulous process, starting with the selection of high-quality materials. The blade is made of premium steel that is carefully heat-treated to achieve optimal hardness and durability. The handle is crafted from a variety of natural materials, such as wood, horn, and bone, to provide a comfortable and secure grip. The blade and handle are then carefully shaped and fitted together using traditional techniques, resulting in a beautiful and functional knife that is built to last.
Shape
The shape of this knife is characterized by its elegant and curved design. It features a slightly upswept blade with a distinct point, which allows for precise cutting and piercing. The handle is ergonomically crafted to fit comfortably in the hand and provides a secure grip for enhanced control. Overall, the shape of this knife is both functional and visually appealing, making it an excellent choice for any kitchen or outdoor adventure.
Functionality
The functionality of this knife is top-notch. It features a razor-sharp blade that easily slices through meat and vegetables with ease. The handle is crafted from durable materials that offer a comfortable grip, allowing for precision cuts. The knife's overall design is sleek and refined, making it a standout addition to any kitchen. Its versatility in the kitchen makes it an excellent choice for both professional chefs and home cooks.
Durability
Based on various reviews and feedbacks from customers, the durability of this knife is impressive. It is made from high-quality materials that have been carefully selected to ensure that it can withstand regular use without damage. The blade is sharp and sturdy, while the handle is designed for maximum grip and comfort. With proper care and maintenance, this knife can last for a long time, making it a great investment for home cooks and professionals alike.
Usability
Based on user reviews and feedback, the usability of this knife has been praised for its comfortable grip, sharpness, and versatility. It is designed for precise and controlled cutting, making it a popular choice among chefs and outdoor enthusiasts. The blade has a strong and durable construction, allowing it to be used for heavy-duty tasks such as splitting wood or carving through tough meat. Additionally, the knife's compact size makes it easy to pack and carry on camping trips or outdoor adventures. Overall, this knife is highly functional and user-friendly.
Fiddleback Forge Geisha Variations
Specifications

Brand
Fiddleback Forge
Category
Bowie fixed knives
Overall Length
5.00"
Blade Length
2.25"
Blade width
0.75"
Blade Thickness
0.11"
Blade Material
A2
Blade Style
Drop Point
Blade Grind
Convex
Finish
Satin
Edge Type
Plain
Handle Length
2.75"
Handle Width
0.75"
Handle Thickness
0.51"
Handle Material
Micarta
Color
Tan
Weight
1.99 oz.
User
Right Hand, Left Hand
Knife Type
Fixed Blade
Model
Geisha
Country of Origin
USA
Best Use
Everyday Carry
Product Type
Knife
Fiddleback Forge Geisha Questions and Answers
---