Microtech UTX-70
Featured Deal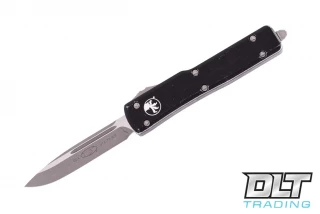 Microtech UTX-70
The Microtech UTX-70 is a "fun sized" double action OTF (out-the-front) automatic. Built 70% scale sized of the standard Ultratech, this cool little auto is a downright blast to own! Small enough to fit in a watch/5th pocket or a keychain, the UTX-70 also has a pocket clip for traditional carry options. ...read more
Microtech UTX-70 For Sale
Most Popular OTF Knives
Specifications

Brand
Microtech
Category
OTF Knives
Overall Length
5.63" (143mm) 5.79" (147mm) 5.75" (146.05mm) 7.52" (191mm) 5.625" 5.75" 5.63" 6.00" 5.25" 5.375" 5.50"
Closed Length
3.23" (82mm) 3.35" (85.09mm) 4.38" (111mm)
Blade Length
2.41" (61mm) 3.39" (86mm) 2.37" (60.2mm) 1.9" (48.2mm) 1.9" (48mm) 1.89" (48mm) 2.375" 2.41" 2.125" 1.75" 1.90" 1.875" 1.875 2.40" 2.45" 2.50" 2.75"
Blade Thickness
0.079" (2mm) 0.08" (2.03mm) .08" (2.03mm) 0.128" (3.23mm) 0.08"
Blade Finish
Apocalyptic Black Stonewashed Stonewash Satin DLC Bronze Apocalyptic Damascus Bronze Damascus Bronze Black Coated
Edge Style
Plain Partially Serrated Serrated Fully Serrated Full Serrations Partial Serrations
Handle Material
Distressed Black Aluminum Copper Black Aluminum Tan Aluminum Jade Green G-10 OD Green Aluminum OD GreenAluminum Titanium Grey Aluminum Grey Aluminum Distressed Red Aluminum Distressed OD Green Aluminum Carbon Fiber Distressed Tan Aluminum Distressed Orange Aluminum Distressed Grey Aluminum Blue Aluminum Violet Aluminum Carbon Fiber Aluminum Red Aluminum Turquoise Aluminum Merlot Red Aluminum Gold Aluminum Merlot Aluminum Purple Aluminum Orange Aluminum Distressed Blue Aluminum Distressed Purple Aluminum Green Aluminum Gray Aluminum Aluminum Aluminum, Carbon Fiber Copper, Aluminum Aluminum, G-10 Brass, Carbon Fiber G-10 Carbon Fiber, Aluminum Stainless Steel
Handle Thickness
0.32" (8mm) 0.33" (8.13mm) .32" (8.13mm) 0.48" (12mm) 0.33" 0.31" 0.32" 0.325" 0.25"
Pocket Clip
Tip-Down Tip Down
Weight
1.2oz (34.02g) 2.9oz (82.22g) 1.25 oz. 1.40 oz. 1.23 oz. 1.24 oz. 1.20 oz. 1.12 oz. 1.22 oz. 1.71 oz. 2.18 oz. 1.10 oz. 1.16 oz. 1.14 oz. 1.18 oz. 2.13 oz. 1.21 oz.
Manufacturer Ref. #
148-10DBK 249-1DLCTCPS 149-1T 147-10APTA 148-1GTJGS 148-1T 147-10APOD 147-1OD 149-10 147-10OD 147-1T 147-1-CC 149-4 147-10 147-1TG CA148-1T CA147-1OD 148-1TA 148-10GY 148-10DRD 148-10DOD 249-1DLCTCFS CA148-10 149-13AP CA147-10 149-10DTA 149-10DRD 149-10DOR 149-10DOD 149-10DGY 149-16CFS 147-16CFS CA148-4 147-13APCPS 148-1BL 148-2BL 147-16BRZCFS 149-1VI 148-11APOD 147-13APCFS 147-11APOD 148-10APTA 148-10APOD 149-13APOD 149-13APCFS 147-13APTA 147-13APOD 149-1RD 149-1GTJGS 147-16CF 147-3GTJGS 147-1GTJGS 148-1TQ 149-6 149-5 419-1DLCTTAS 419-1DLCTODS 419-1DLCTMRS 419-1DLCTCGS 419-1DLCTBLS 149-11 149-1TA 149-1MR 149-1BL 148-10AP 147-1MR 419-10S 149-1PU 148-11RD 419-10ORS 148-2GY 148-1GY 148-4OD 148-2 419-10ODS 419-10BLS 147-10DOD 147-10DBL 147-11 147-1BL 147-6 147-4BL 147-3OD 147-2 148-1OD 147-12 CA147-10AP 148-1PU 147-10TA 147-10DPU 147-10DBK 147-4PU 147-1RD 148-1RD 147-10OR 147-1VI 147-4OD 147-1TA 148-4RD 148-4BL 147-4OR 147-1OR 147-4RD 149-4RD 149-4PU 147-2PU 147-1PU 148-1OR 149-1GY 149-4BL 148-1 419-10
Country of Origin
USA
Blade Style
Spartan Tanto Drop Point Dagger Hellhound Spear Point Standard
Blade Steel
Elmax, M390 or 204P
Cutting Edge Length
2.25" (57.15mm)
Blade Material
Elmax CTS 204P Damascus CPM S30V Premium Steel Unknown CTS XHP Stainless Steel 154CM Bohler M390 ATS 34 D2 CPM S35VN
Blade Grind
Flat Hollow
Finish
Black Bead Blast Stonewash Damascus Satin Green Green Camo Tan Camo Urban Camo Mirror, Spectrum Mirror Bead Blast, Bronze, Stonewash Bronze Bronze, Stonewash Bead Blast, Stonewash
Edge Type
Serrated Plain Fully Serrated, Plain
Handle Length
3.25" 3.375" 3.22" 3.50" 3.30"
Color
Black Green Purple Blue Orange OD Green Tan Green Camo Tan Camo Urban Camo Red Black, Jade Black, Brass Jade White Gray Teal
User
Right Hand Right Hand, Left Hand
Knife Type
Double-Action OTF Automatic
Opener
Thumb Slide
Model
UTX-70 UTX-70 CA Legal
Model Number
148-2 147-8 148-7 148-2Z 147-1 148-1 149-5PU 147-16CF 148-1TQ 148-1PU 148-4PU 148-5PU 148-5OR 147-2PU 147-2Z 249-1TQ 249-2TQ 149-1Z 149-2OR 149-3TQ 149-4TQ 149-4PU 149-5BL 149-2Z 147-2TQ 149-2PU 149-4OR 149-5OD 149-1OD 147-2OD 149-4OD 147-4TQ 147-4PU 249-1PU 149-4BL 149-1TQ 149-8DTZ 149-8DT 149-7DTZ 149-7DTOD 149-7DT 149-2DTZ 149-2DTOD 149-2DT 149-1DTZ 149-1DTOD 149-1DT 149-11DTZ 149-11DTOD 149-11DT 149-10DTZ 149-10DTOD 147-2 147-3 148-10TA 149-2BL 149-3BL 149-1TA 149-2GC 149-2TC 148-2GC 148-2TC 149-2UC 149-3TC 149-3GC 149-3UC 148-1TC 149-1GC 148-1GC 148-2UC 149-1TC 148-1UC 149-1UC 147-5BL 147-2BL 149-4RD 147-1BL 148-1RD 147-1OD 148-10TQ 147-10 BL 147-10RD 147-10 OD 149-9 148-11 149-3T 147-7CA 147-10CA 148-10CA 148-7CA 149-3 148-4CA 149-6 249-1 DLCTCPS 148-1GTJGS 149-1T 148-10 147-13AP 149-13APCFS 149-1OR 149-1 GTJGS 149-13 147-10 148-1 BL 147-10AP 147-10VI CA147-1OD 147-3 DLCSH 148-1T CA148-13 148-4 148-1TA 419-13 147-4TA 147-1TA 149-1W 147-4 OD 149-2T 147-3T 147-1T 147-6 147-12 147-5 147-9 147-4 147-1PU 149-10 149-4 149-1PU 148-1OR 148-1OD 148-1 TG 149-5 149-1 147-2TC 147-3VI 147-3OR 147-3TQ 148-10OR 147-4 RD 147-4OR 147-2OR 249-1DLCTCFS 148-10DBL 148-10DBK 148-10AP 147-1MR 148-1 MR 149-1MR 147-10 APTA 147-12 APOD 147-10 APOD 147-11 APOD 149-10 AP 419-13 VIS 148-10 APVI 419-10RDS 147-10DOD 147-10 APRD 148-4RD 147-1GTJG 149-1VI 149-10TQ 149-10BL 148-4 TA 148-4 BL 148-2 BL 148-1 VI 148-1GY 148-10 RD 148-10GY 147-3 RD 147-11 BL 147-10 OR 249-4 147-16 419-10 148-1CA
Best Use
Everyday Carry, Tactical Collection, Everyday Carry Everyday Carry Tactical
Product Type
Knife Sheath
Hardness
59-60 RC 59-60 HRC
Blade width
0.45" 0.375" 0.50" 0.44"
Handle Width
0.57" 0.625" 0.75"
Designer
Tony Marfione
Length
2.00"
Width
1.25" 1.00"
Carry
Neck
Material
Kydex
Cutting Edge
1.75" 2.25" 2.125"
Daily Deals

Microtech UTX-70 Variations
Microtech UTX-70 Reviews Greg H.
Perfect EDC!!!
I love this knife! Razor-sharp, double-edged blade. Very discreet. Will fit in your shirt pocket, ready to fire quickly with the dependable Microtech action! Very difficult to find this model anywhere. Arthur R.
Another Great Microtech Product
This UTX-70 does not disappoint. I have other Microtechs to include UTX-85s and Ultratech. This little tool is so light it feels like one of these classic Case penknives in the hand. The deployment is crisp just like the big brothers and the fit and finish are flawless IMO. If you are looking for something small to hide in the pocket or just hang on the clip in your pocket, this… read more is a great acquisition. Highly recommend! Raymond Higa
Great knife!
Very well made and made in the US! Very smooth action and light weight. Great addition to my collection. Five Stars!! Matt Griffis
Great Knife
Perfect size to carry for any occasion. Travis Hagan
UTX-70
Awesome little knife. The jade g10 looks great. Such a sleek tiny blade that you forget you are even carrying it. Cameron Willis
Perfect place to buy!
I've been looking everywhere for a microtech utx 70. I tried microtechs website several stores near me that carry them and bladehq. I found one on here and said welp I'm either gunna get scammed or get a knife so I took a gamble. Got my knife in 2 days just as promised. I was super excited and so glad I found one. Only complaint is that I had to pay 20 bucks more then I would… read more at blade hq. but it was worth it to get a knife that otherwise unavailable. Jerry Heit
No worries!!
Received my knife on time and in perfect condition. Never a worry with DLT!!! Zack Williams
Perfect for EDC
Initially I was a little concerned with its size but it's since surprised me and I find myself taking it with me more and more. Everything you could ask for from Microtech. Kyle carr
Great company to deal with
Man. Although I think the knife is a bit small the quality is outstanding, but nothing beats the top notch customer service I got as a first time buyer with DLT

if I need another knife, I'd be dumb to shop anywhere else.

Thanks y'all Gary p.
my first high end otf
this was my first expensive otf and i really like it it fits really well in the pocket and is razor sharp Andrew spillum
The Meeting of Fun and Function
This is quite possibly the most Fun knife I've ever had. The blade is not just cool [ it IS cool though ] it's functional, it's a beefed up scalpel on a 2 inch blade. And that blade's in an OTF And that OTF'S a Microtech. Duane A.
Lo Maximo
This is my first Mictotech and my first OTF. And what a treat it is! Fit, finish and function are excellent. Anodized aluminum handle is much easier on dress shirts, pants and coats than other handle materials. This is the ticket if you're looking for a lightweight sub 3" EDC! Aaron R.
Much more than a novelty
Im Aaron R. And Im a Microtech o holic. It has been three days since I last purchased a Microtech. This one has found its way onto my person every day since it arrived. I was afraid that it would be too small but when I held it my hand I knew that this knife and I could go places. It is very sharp and very light. Its is so light that it is fine in gym shorts or rides comfortably… read more in between the buttons on a polo shirt. Today I carried it in my pocket and it took up no room and did not interfere with my big screen phone in any way. Although it is small, it is large enough that it isnt awkward to retrieve and open like some small knives can be. If you are a fan of knives such as the Kershaw Launch 4, Boker Mini Kalishnikov, or Spyderco Dragonfly, Im sure you will love this knife as much as I do. Chad D.
Perfect EDC work horse
I personally have several microtech knives, and love them all. The few times I have needed service on a knife, they have it repaired and back to me in less than a week. Out of all my knives, my UTX 70s get the most use. Pretty much all day every day this litte knife does great. This new design is awesome, with a better contour handle for grip, and its some how a lighter weight.… read more I would reccommend this little guy to anyone looking to try microtech for the first time, as this is small enough to not be seen as aggresive for work use, and it is still absolutely rock solid and wont let you down. AJ C.
Amazing, but pricey
This is a perfect little EDC. Great for disappearing in your pocket or carrying on the waistband of a pair of shorts. Fires very strong, and good quality all around. Nice thin blade, although I wish the grind was a tad thinner. I also like that it is made in the USA. Super great fidget factor. It also just looks great.

Why 4 stars? $240 (by time you pay for taxes and shipping)… read more is terribly expensive for what you get IMO, and there are countless other folders where you would get better value for your money in the ~$200 price range. That said, I'm certainly not returning mine. If you compare it to other $200+ folders you may be disappointed, but it's pretty amazing nonetheless.

I kinda wish there was a UTX 77.5. That would be perfect.

If you're on the fence about one of these, try picking up a Firecracker OTF first to see if you like the size/feel of an OTF. Just don't buy a knockoff please. Bryan b.
Everything I Wanted In A Compact OTF
First off, the fit and finish on this is absolutely impressive; especially on a small knife and a blade with a complex grind. The bevels and grind are 100% flawless.

This thing is small and super light but does not feel cheap or like a toy at all.

Blade fires and retracts hard and fast with good lockup.

Yes, it is small, but it's everything I wanted in an OTF.… read more It's basically the exact same size as my Victorinox Cadet and that's what I was hoping for.

Works great as an every day small task knife just like my Cadet, but with the added functional utility of super easy one-handed operation.

It's kind of amazing that a small pocket knife like this can feel so high quality but it really does. Alejandrino Villanueva
Great product
Quickly shipped ! Would purchase again! Sam H.
Great EDC knife
Amazing microtech I bought one then quickly purchased two more while they were in stock, I would tell anyone when these are in stock grab one you wont be disappointed Drew U.
Little star
The knife is tiny, at first I was a little shocked on how small it actually was..I thought it was too small. Then I carried it for awhile and realized how great it actually was! Yes its small but thats kind of the beauty of it! Ill probably get the next size up too. Tyler K.
Best Microtech Ever?
This could just be my most favorite Microtech ever. The second I opened it my wife said she wanted one. This thing is too cool and very useful. It disappears in the pocket and has stood up to every EDC task I've put it through. Would highly recommend this knife! Hudnell C.
Great lightweight EDC!
All the snappy goodness of a Microtech OTF in a tiny, lightweight package. The quality is right on point with my UTX-85. It disappears in your pocket and came absolutely razor sharp. Grab one while you can! Kevin H.
Love my baby Microtech
I love this compact sizing of the Ultratech, what I call my baby Ultratech. This UTX-70 has a very smooth action on it that locks up tight!! Ive always loved these compact sized OTFs and am so glad Microtech has made them available again. Also another very smooth transaction from Blade HQ. These guys really treat a customer right!!! Once again, thank you Microtech for making such… read more a precision work of art and thank you Blade HQ for being such a great retailer to work with!! Alan S.
Fun!
I purchased this for my wife. Her words when she opened the box and fired the knife " I LOVE IT" and that really sums it up. The size is great for my wife, and for a "gentleman's knife" in dress pants this would be great. Beautiful blade and razor sharp. Very thin but doesn't feel cheap at all. This is a knife you can USE.
Microtech UTX-70 Questions and Answers
---