Spyderco Para 3 Lightweight
Featured Deal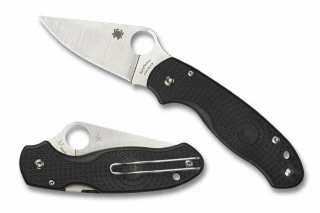 Spyderco Para 3 Lightweight
Spyderco's best-selling Para 3 folding knife distilled all the key qualities of their time-tested Para Military 2 MODel into an ultra-compact, carry-friendly format. Now this groundbreaking design takes another quantum leap forward by incorporating injection-molded fiberglass-reinforced-nylon (FRN) scales and a streamlined version of Spyderco's patented Compression Lock mechanism to cReate the Para 3 Lightweight.Almost 30 percent lighter than its G-10-handled counterparts, the Para 3 Lightweight boasts linerless, open-backed construction and Spyderco's high-traction Bi-Directional Texture pattern for a secure grip. A stainless steel lock bar inset into the handle's interior forms the foundation of its sturdy lock mechanism, while keeping the overall weight to an absolute minimum. The knife's full-flat-ground blade is crafted from CTS BD1N, a nitrogen-enriched high-carbon chromium steel that offers a superior balance of hardness, edge retention, and corrosion resistance. ...read more
Spyderco Para 3 Lightweight For Sale
Most Popular All Knives
Specifications

Brand
Spyderco
Category
All Knives
Overall Length
7.21" (183mm)
Closed Length
4.29" (109mm)
Blade Length
2.92" (74mm)
Blade Thickness
.145" (4mm)
Blade Steel
BD1N
Blade Finish
Black Coated
Handle Material
FRN
Pocket Clip
Yes, right or left hand, tip up
Lock Type
Compression
Weight
2.4oz
Country of Origin
USA
Daily Deals

Spyderco Para 3 Lightweight Variations
Spyderco Para 3 Lightweight Reviews Timothy Nyman
Great Knife
I'm a big Spyderco fan and this knife does not let the brand down. Super light and opens & closes with ease. Now my go to EDC. Only thing I'd like to see fixed is FRN scales smoothed on the edges. Seth Mulder
Great little knife from THE knife shop
My wife loves the knife and we love DLT trading. Amazing prices lightening fast shipping. I've purchased three knives from them so far and I will definitely purchase countless more. This is most definitely our online knife shop! Joseph Bowman
Awesome knife, even more awesome dealer!
The Para 3 LW is one of my favorite offerings from Spyderco, it's a fantastic knife. DLT is also unrivaled when it comes to shipping times, they are fantastic! Andy Haacke
That there's a para 3 lightweight
I purchased the DLT exclusive para 3 in M390. It was the first para 3 for me and I was really impressed. I actually ordered a bugout and called to change my order to this knife. I thought, why not get the lightweight version of a knife I recently enjoy. I'm glad I did. It may not be the same build quality but for the price and the wire pocket clip I love on Spyderco knives ?. It's… read more a great purchase. I actually prefer the FRN and the edges are smooth. I carry this, the dragonfly 2, and stretch 2 in v-toku 2 most out of all my knives. Nothing wrong with a lighter FRN edc! Addie Cunningham
Spyderco Para 3
Why offer a fine quality knife like that with sub-standard CTS-BD1???????
At minimum give the little knife a chance with CTS-XHP!! S35V, S30V is better than BD1. Setting it up to fail! Ian McCoy
Perfect EDC.
There's so many little details to like about the execution of this little folder.

Great ergos. The handle shape due to the FRN are nice and contoured. The FRN isn't as aggressive as something like the delica, but still grips in your hand.

The deployment is fast and snappy. And the closing was drop shit right out the box.

Mine came… read more scary sharp. And the grind is symmetrical.

The deep wire clip is great. It carries very deep in the pocket and the knife is so light you'll barely notice it there.

If there was anything I could nitpick, it would be the spacers, which are FRN casing steel cushings, but it's a minor cosmetic niggle.

Overall, a fantastic knife and will be taking the top place in my pocket rotation for a long time to come.
Spyderco Para 3 Lightweight Questions and Answers
---