Swiss Army Classic SD Blue DLT All Over Print
About Swiss Army Classic SD Blue DLT All Over Print
The Swiss Army Classic SD Blue DLT All Over Print is a versatile and stylish pocket knife designed for everyday use. It features a compact design with a length of only 58mm, making it easy to carry in your pocket or attach to your keychain. The knife is made from high-quality stainless steel and has a durable blue DLT coating that provides excellent resistance to corrosion and wear.
The knife's unique all-over print design adds a touch of personality and style to your everyday carry. It features a series of intricate and eye-catching designs that are sure to turn heads wherever you go. The knife also comes with a range of useful tools, including a blade, a nail file, scissors, a screwdriver, and more, making it a versatile and practical tool for any situation.
Whether you're looking for a reliable pocket knife for everyday use, or simply want to add a touch of style to your daily carry, the Swiss Army Classic SD Blue DLT All Over Print is an excellent choice. With its high-quality construction, versatile design, and eye-catching print, it is sure to become a favorite tool and accessory for years to come.
Swiss Army Classic SD Blue DLT All Over Print For Sale
Most Popular Bark River Accessories
The Swiss Army Classic SD Blue DLT All Over Print is a... read more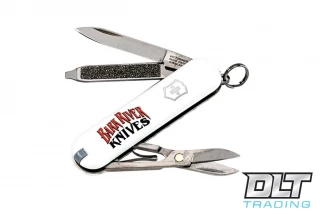 The Swiss Army Classic SD Bark River Logo is a compact and... read more
Daily Deals

Swiss Army Classic SD Blue DLT All Over Print Questions and Answers
---